Most people's number one goal when starting a diet or physical activity is to lose fat. This is a big topic on social media and in magazines. There are many ways to boost your fat loss, but today focusing on subcutaneous fat, we will talk about two key hormones to boost your fat loss journey.
Before we start, let's have a general understanding of the fat in our body.
The human body is made up of two primary kinds of fat:
Subcutaneous fat, which Is the fat located under the skin.

Visceral fat, which Is the fat around our organs.
Functions of fatty acids and triglycerides in our body:
They help with certain fat-soluble vitamins (A, D, E, K) and mineral transportation.

They provide the structure of our plasma membranes.

They help regulate our body's temperature with subcutaneous fat.

They are a great reserve for energy in the human body.

They provide raw materials for many hormones and help with regulating the function of other hormones.
Is Subcutaneous fat bad for our body?
As mentioned above subcutaneous fat is located under our skin, how much subcutaneous fat we carry is determined by our genetics, physical activity, diet, and stress levels. While carrying some subcutaneous fat is not detrimental to our health, carrying too much of it can put us at a higher risk of developing health problems such as fatty liver disease, kidney disease, sleep apnea, certain types of cancer, heart disease, strokes, and high blood pressure.
So what are these two key hormones?
Epinephrine and norepinephrine (adrenaline and noradrenaline) are two of the most important hormones for reducing body fat.
When these two hormones increase with exercise, fatty acids are released into the bloodstream so our muscles can move. They also suppress appetite and gastric function; in simple words when they go up, hunger decreases.
Stress is another factor that can lead to increased levels of these hormones, but that is a separate topic that I will not be discussing in this article.
Now, I know all of you are thinking that in order to lose fat you must have high levels of these hormones. However, without doing any physical exercise, raising up our epinephrine and norepinephrine hormones is not that useful because even though the fat is available to be used as energy, there is no increased muscular activity to use this energy source, so the fats simply go back home (fat storage).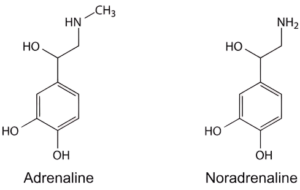 Different stimulants to raise the two hormones:
By now I assume you know that following a nutrition and training program with moderate energy restriction will help reduce adipose tissue (fat), but let's see how you can speed up the process.
Recent studies have shown that a low-calorie diet supplemented with a thermogenic supplement which often contains either caffeine, green tea or both, conjugated linoleic acid (CLA), a protein gel, and a multi-vitamin improved bodyweight reduction 97% more, reduced body fat% according to skinfolds 9 times more, and reduced skinfold thicknesses at five sites, compared to a diet without supplementation.
Since skinfolds were significantly reduced with supplementation and segmental DXA measurements were unchanged, the data suggest that these supplements were affecting the selective mobilization of fatty acids from subcutaneous fat depots for oxidation over visceral and other fat depots.
If you think about it, this is true because stimulants borrow energy since energy can't be created nor destroyed. But if we don't use this energy it goes back often leaving us fatigued without too much energy. On the contrary, if we combine these stimulants with physical activity than guess what? Those fatty acids we just borrowed are going to be used as energy and therefore the fat loss is activated!
Supplements I suggest to boost fat loss:
Multi-ingredient thermogenic supplements have been shown to stimulate greater energy expenditure, increase fat burning, and reduce appetite, which could significantly reduce body weight, fat mass, and abdominal fat mass. Green tea can exert anti-obesity and inflammatory effects. In fact, there is research showing that thirty overweight female participants decreased body mass index (BMI), waist to hip ratio (WHR), and body fat percentage by taking a 500 mg green tea capsule daily with endurance training 3 sessions per week. It also produced changes in anti-inflammatory and metabolic markers compared to exercise alone.
As a nutritionist, I suggest taking natural green tea 2-3 times per day instead of supplementing it.
Conjugated linoleic acid (CLA) is another common weight loss supplement. Many studies have reported a decrease in body fat with CLA supplementation and one study demonstrated reduced body weight after a 12-month CLA intervention. However, the effectiveness of caffeine-containing supplements and CLA over shorter periods of time remains unclear.
---
Conclusion:
For the general population, losing fat can be done simply by living a healthier life, following a training plan consisting of strength training, aerobic and anaerobic work, and eating a healthy and nutritious diet with minimally processed foods.

If your nutrition is 95% accurate, and you want to take it one step further, then you can add a thermogenic supplement like green tea or caffeine, and CLA while eating a lower calorie diet and performing a physical activity to boost up the fat loss process, but remember these are not magic pills and they may work for some people but have no effect on others.
(Click here to book a free consultation with me and start your journey to achieve your dream body)
---
References:
https://www.ncbi.nlm.nih.gov/pmc/articles/PMC4398439/#!po=35.1064
https://www.healthline.com/health/subcutaneous-fat#outlook
https://bpspubs.onlinelibrary.wiley.com/doi/abs/10.1111/bcp.14176